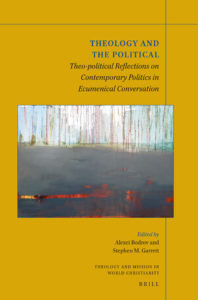 Dr. Stephen M. Garrett, Global Scholars' Vice President of Curriculum, recently co-edited Theology and the Political: Theo-political Reflections on Contemporary Politics in Ecumenical Conversation, edited by Alexei Bodrov and Stephen M. Garrett. It is the fruit of Orthodox, Catholic, and Protestant conversations from East and West concerning the retrieval of theological discourse for political praxis, theo-political structural analysis of secularity/post-secularity, and distinct political engagement from varying Christian traditions that not only offer political critique but criticism of its particular tradition. 
This edited volume is animated by the motif of political action as witness in a missional key and makes a unique interdisciplinary contribution to the field of political theology that invites further reflection on the gospel instantiated in various cultural contexts in light of the boundary-crossing nature of mission and theological discourse.
This book can be purchased at https://brill.com/view/title/55713.