Global Scholars professor Dr. Joel Huegel, went to Nepal 20 years ago as a Christian professor on mission. Yet he didn't fully realize the strategic role he could play until he met a Campus Crusade staff worker in his town.
"The man wanted to get on my campus to do ministry, but he couldn't get past security," Dr. Huegel recalled. "I was his solution. He could get permission to visit me on campus for coffee and then stick around to visit students."
At that point, Dr. Huegel realized the full extent to which earning an academic degree and securing a university position opened doors not only for himself but also for other Christians.
A third-generation missionary and second-generation Mexican, Dr. Huegel took a position at Tecnológico de Monterrey, a private university with multiple campuses in Mexico, in 2003. But he faces obstacles to being effective for Christ as a professor. He is not alone.
"It's the same everywhere—Christian scholars on secular campuses often feel isolated and alone," he said, "so support from like-minded believers is very valuable."

To help meet this need Dr. Huegel has played a significant role in establishing the Society of Christian Scholars. "I envision the Society of Christian Scholars becoming the premier academic society for Christians worldwide. This idea hasn't taken off in the past, but today, with the great opportunities for connectivity, is the time to make it happen."

Please pray for Dr. Huegel and the expansion of the Society of Christian Scholars (currently an average of two more Christian professors join each week). We are thankful for your partnership with our ministry as we equip professors just like Dr. Huegel to make an impact for Christ around the world.
Don't forget to register for the next Global Briefing, to be held on Saturday, June 5 (online via Zoom). In this briefing we will "go" to Nigeria and visit with our founder, Dr. Danny McCain, who has taught in Africa for over 30 years and is having a tremendous influence for Christ. Find more information and registration details here.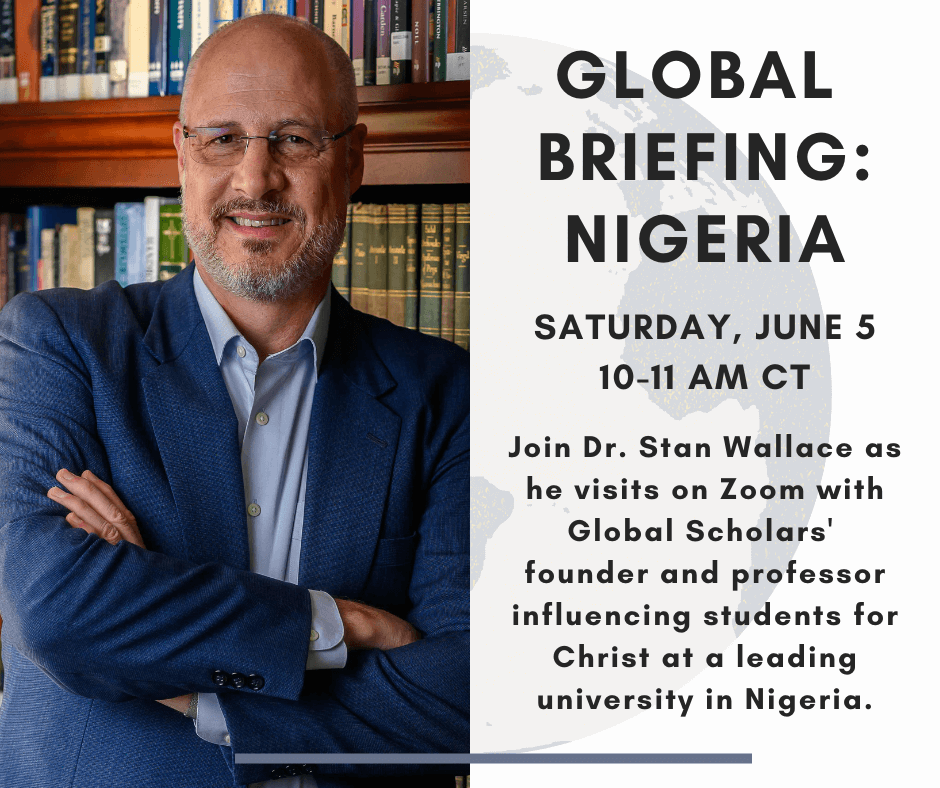 You won't want to miss hearing how this Christian professor is making a profound difference in the lives of his students! Listen to the May episode of the College Faith podcast, featuring University of Virginia professor Dr. Ken Elzinga.