We love the university! You can join us in helping it fulfill its real purpose.
The university hasn't always had the best reputation among those outside its walls. From the old town and gown battles to its reputation for radical–even foolish–causes, the institution has aroused suspicion. But no one has come up with an idea to replace the university. Despite a recent short reign of political correctness, the university is the finest nursery of innovation, creativity, and societal change.
Most nations are making big investments in higher education. They understand their future depends on the flourishing of their nation's universities. Faculty will teach millions of students each year in these schools. Their professors will no doubt instruct them with a mixture of truth and falsehood. In these halls of knowledge, will every student and scholar have a professor or colleague who communicates the good news about Christ? Will a Christian worldview inform any of the academic disciplines offered on university campuses? Without the presence of missional Christian academics, higher education cannot fulfill its enormous potential to bring truth, goodness, and beauty to society. We need more Christian professors on campus. We also need to strengthen and equip the ones who are already there. Will you join us so we can shine the light of the gospel in a place that often seems dark?
"But how can people call for help if they don't know who to trust? And how can they know who to trust if they haven't heard of the One who can be trusted? And how can they hear if nobody tells them? And how is anyone going to tell them, unless someone is sent to do it?" Romans 10:14-15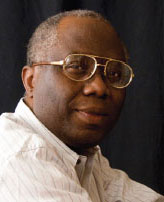 Meshack, a Global Scholars Professor, taught Business and Engineering at The University of Dhaka (Bangladesh). Because he was a professor who showed himself to be an excellent teacher, he earned the right, on this predominantly Muslim campus, to hold the first-ever campus-wide seminar discussing the person and teachings of Jesus. More than 2,000 students and many top university officials attended the seminar!
Meshack was able to present the Gospel clearly and provide everyone with a copy of the New Testament. Many heard the gospel for the first time due to his credibility as a professor.
Work in Global Academia
Get Connected to Christian Academics Worldwide
Volunteer
Give